Several weeks ago, I purchased Aversity's CB Masters Academy course.
It is a Clickbank course that teaches an online business strategy that many Clickbank super affiliates utilize to earn significant commissions.
In this CB Masters Academy review, I will cover what the course is about, all of the modules included, as well as my pros and cons.
Product: CB Masters Academy
Product Creator: Sean Bagheri
Price: $97
Rating: 4 out of 5 stars
My CB Masters Academy Review
Below is my course overview. You'll learn a bit about the course instructor and what you'll learn within each module.
I'll also discuss who the CB Masters Academy is best suited for and if it is worth buying.
Who is Sean Bagheri?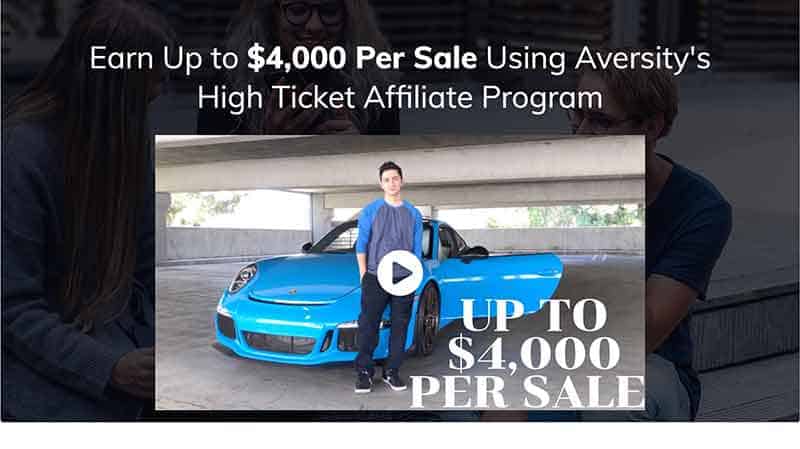 The first thing to know about CB Masters Academy is that it was created by Sean Bagheri. Sean is a super successful affiliate marketer and a Clickbank Super Affiliate.
What that means is that he has earned a lot of money from promoting Clickbank products.
I first stumbled upon Sean while browsing YouTube. I watched one of his videos and subscribed to his YouTube channel.
Sean didn't start out as a successful affiliate marketer. Like all beginners, he struggled to earn commissions.
After a lot of trial and error, he was able to increase his affiliate commissions year after year.
He is also the founder and CEO of Aversity. Aversity is an online business training center that contains all of Sean's online business courses.
Sean's courses range from making money with Clickbank to full-on done for you sales funnels.
Aversity even has its on high-ticket affiliate program. Meaning, if you promote Aversity courses, you have the opportunity to earn thousands of dollars per referral.
What is CB Masters Academy?
The course itself teaches users how to earn steady commissions promoting Clickbank products.
Clickbank is still one of the most popular affiliate networks around. Many beginner affiliates like to promote Clickbank products.
The problem is that there is a lot of competition and that makes it challenging for beginners to make sales.
CB Masters Academy teaches how to promote these products using an online business strategy utilized by many successful super affiliates.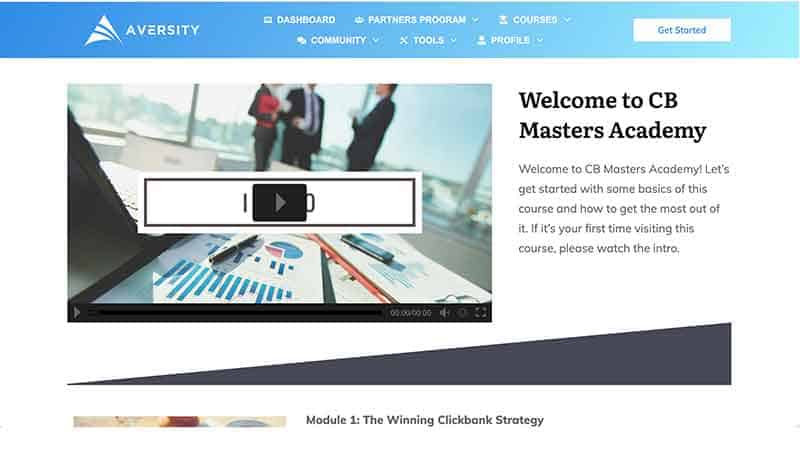 This strategy involves offering bonuses in order to entice your web visitors to buy the product from you versus someone else.
There are several elements involved to make this strategy effective and Sean provides step-by-step training to show you how to make it all work.
The Program Modules
There is a total of eight training modules and a bonus Elite training module that is available for a fee.
These modules include:
The Winning Clickbank Strategy
How To Choose The Right Product To Promote
Your Core Business Strategy
Build Your Website
YouTube Traffic
Search Engine Traffic
Email Marketing
Solo Ads Traffic
Elite Training Module: Extra Training, New Strategies, and Updates
Each module has several video lessons. Some lessons include downloadable PDF files.
Module four is really where the meat of the course is.
These lessons include over-the-shoulder step-by-step training for setting up the same website using Sean's business strategy.
You really can't get lost with building your website. Therefore, don't worry about not having any experience with using WordPress, registering domain names, getting web hosting, etc.
Pros
Here are the pros of the course:
covers how to find "good" products on Clickbank
website creation is very detailed, step-by-step, and provides a blueprint to follow
over-the-shoulder video lessons
teaches how to create product bonuses
learn how to create an effective headline video
traffic generation strategies (YouTube, blog, SEO)
email marketing and opt-in funnel
using solo ads for leads and sales
Cons
I didn't have many cons. In fact, there is only one con that came up for me.
some Clickbank products do not allow this method so be sure to read the affiliate terms
Watch my YouTube video below for an example of a Clickbank affiliate product that does not allow using bonuses to promote their product:
Want to learn how to earn Clickbank commissions from a Clickbank Super Affiliate? Click here to learn more from Sean Bagheri's CB Masters Academy.
I definitely don't feel that CB Masters Academy is a scam. It is a legit training course.
Although I've heard of using bonuses to help sell products, I had no idea how to implement that strategy in an effective manner.
Who is This Course Best Suited For?
The course is for anyone who wants to become successful with promoting Clickbank products.
If you've struggled to earn even one commission with Clickbank, this course can provide you with the skills and confidence that what you implement will be effective.
It is a beginner-friendly affiliate marketing course and if you have a bit of experience with earning commissions, you'll likely learn a strategy that is new to you.
Keep in mind that the course does offer free traffic generation strategies but it also includes using solo ads for generating leads.
Solo ads are email lists that you can rent for a set fee. The rates are set by the email list owners.
Essentially, you can have your email sent to someone else's list in order generate new leads and sales.
There are pros and cons to using solo ads. Sean seems to have a lot of experience with using them and has had success in doing so.
It is an added expense but by following the training, you'll hopefully get a return on your investment if you choose to use solo ads.
Is CB Masters Academy Worth It?
For $97, this course is worth it. It isn't super expensive but what is taught is more than worth the price.
Sean is a great instructor and I feel he did an excellent job, especially for teaching the actual web set-up which can be challenging for beginners.
This is one business strategy for learning how to make money with Clickbank, so in my opinion, the price makes it more than worth it.
Closing Thoughts On CB Masters Academy
Overall, I was impressed with this course. I have experience with earning affiliate commissions but could never crack the Clickbank code.
It is no secret that Clickbank doesn't always have the best products on their platform. Thankfully, this course covers how to find good products that will help reduce refund rates.
Sean's course provided me with a strategy that I'm excited to implement.
I hope that my CB Masters Academy review has been helpful. It is an affordable course that provides an inside glimpse into what a Clickbank super affiliate does to earn steady Clickbank commissions.
You can get more details about the course by visiting the sales page here.