Are you interested in or already focusing on the cannabis niche? It is a booming industry and one sub-niche that is quite popular is cannabis seeds. There are several cannabis seeds affiliate programs that you can join to start earning profits.
The cannabis industry is growing and will only continue to grow as various cannabis products are more mainstream and available legally. CBD oil is one such product that has taken off.
If you take a look at the Google trends graph below, you will see that cannabis seeds are highly trending and will likely continue to trend upward:
Below are some cannabis seeds affiliate programs that you can consider for your next niche website.
Cannabis Seeds Affiliate Programs
Pacific Seed Bank
Sensi Seeds
Toronto Cannabis Seeds
Seedsman
Quebec Cannabis Seeds
Sun West Genetics
Growers Choice Seeds
Original Seeds Store
Fast Buds
How I Make $1,000 Commissions Using a Simple 2-Page Website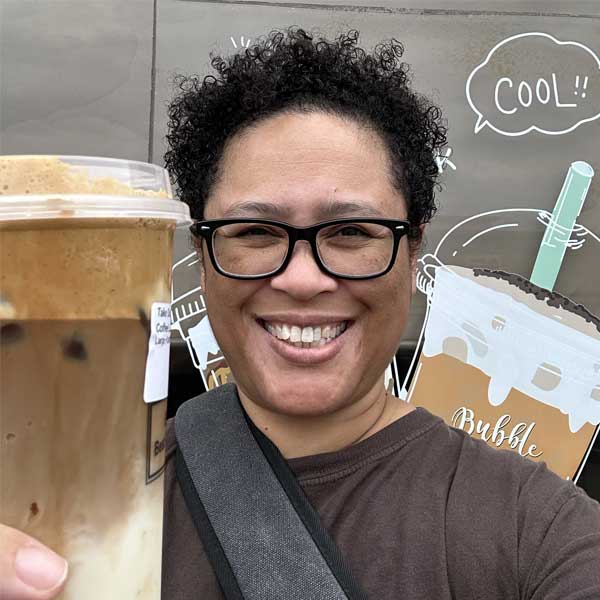 Hi! I'm Eartha, the author of this blog and an affiliate marketer. I enjoy sharing cool affiliate programs that I've found as well as sharing ways to help increase affiliate income.
One of the ways I've increased my affiliate income is by promoting high-ticket affiliate products. These high-ticket products result in higher commissions.
Imagine being able to earn $1,000 or more in affiliate commissions for every sale that you refer. That is what's possible when you focus on high-ticket affiliate marketing.
If you're ready to level up your affiliate income, click below:
1. Pacific Seed Bank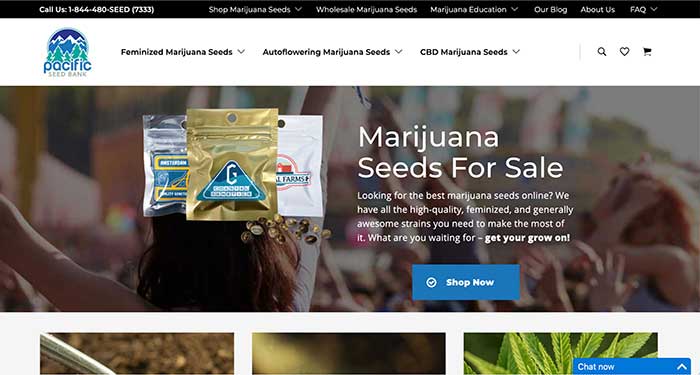 Commission: 20%
Cookie Length: 30 days
The Pacific Seed Bank company is made up of horticulturists, medical professionals, and business aficionados who have spent more than 20 years locating the best strains of cannabis seeds.
They seem to run their affiliate program in-house. A website is required during the sign-up process and they ask how you will be promoting the program.
The commission and cookie length are great and chances are, targeted leads will buy multiple packs of seeds. You must have a minimum of $200 in commissions before they will pay out.
2. Sensi Seeds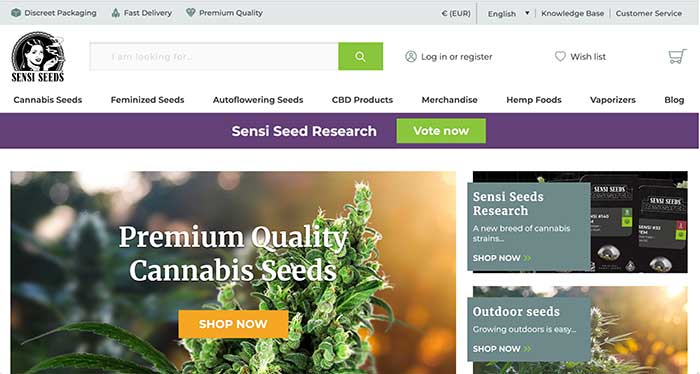 Commission: 20%
Cookie Length: not disclosed
The Sensi Seed company is a pioneer of the cannabis seed industry. The company started in 1985 and is now one of the largest cannabis seed banks with over 500 varieties.
The Sensi Seed affiliate program pays out the 15th of every month via direct deposit. This company is a great one to promote as they have such a wide variety of seeds and they have been around for over 30 years.
3. Toronto Cannabis Seeds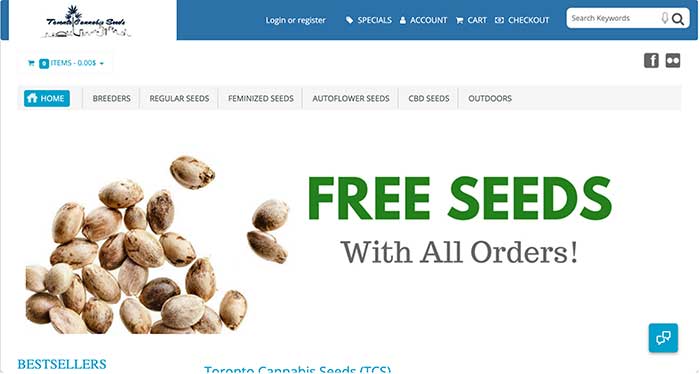 Commission: 20%
Cookie Length: 90 days
The Toronto Cannabis Seeds company has been providing Canadian cannabis seeds for over 15 years. They offer a great variety of seeds carrying 60 of the best cannabis strains on the Canadian market.
Their affiliate program pays out on the 20th of each month and you must have a minimum of CA$100 for pay out. They seem to be a very stable company that carries quality seeds.
There wouldn't be any problem promoting and obtaining conversions with this brand.
4. Seedsman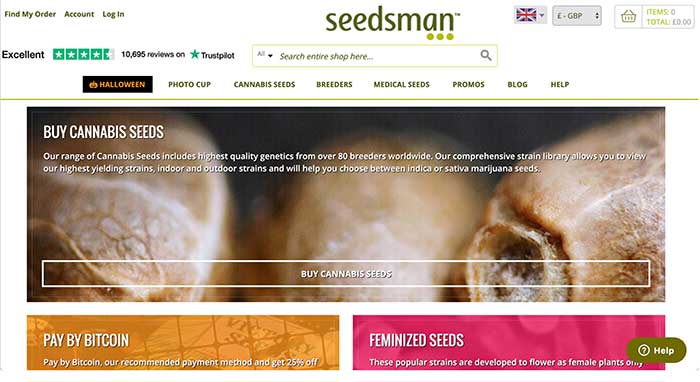 Commission: 15% to 20%
Cookie Length: 60 days
The Seedsman company has been in business since 2003. They sell not only cannabis seeds but CBD products, paraphernalia, drug testing kits, merchandise, and vaporizers.
They carry 1500 strains from over 65 seedbanks from every corner of the globe. The affiliate program pays out on the 20th of each month and pay via PayPal or direct deposit.
5. Quebec Cannabis Seeds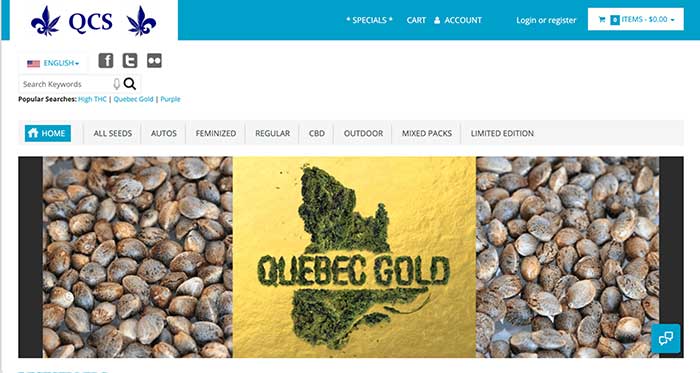 Commission: 20%
Cookie Length: 90 days
Quebec Cannabis Seeds has been in business for 15 years. While offering a wide variety of seeds, they also focus on breeding cannabis for medical and well-being purposes.
Their affiliate program pays out on the 20th of each month with a minimum payout of CA$100.
6. Sun West Genetics
Commission: 20%
Cookie Length: not disclosed
Sun West Genetics has over 10 years of experience in the cannabis seeds business. Besides selling seeds, they also breed their own. They also offer 24/7 phone, live chat, and email customer support.
They require a $100 minimum balance for payout and they pay once per month for the previous month.
7. Growers Choice Seeds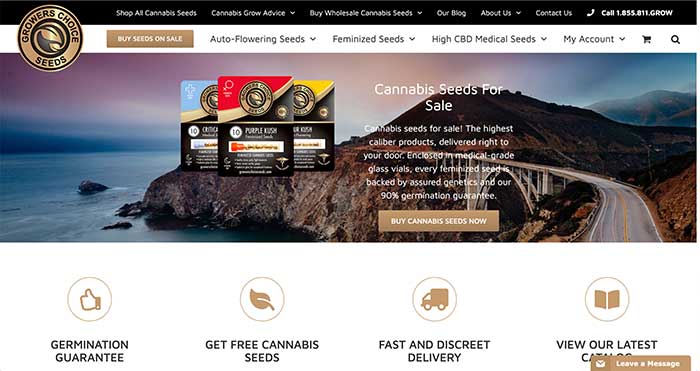 Commission: 20%
Cookie Length: 30 days
Growers Choice Seeds is a California-based company that carries more than 50 strains of cannabis seeds. They also offer a 90% germination guarantee.
Their affiliate program has a $200 minimum balance before they will pay out commissions.
8. Original Seeds Store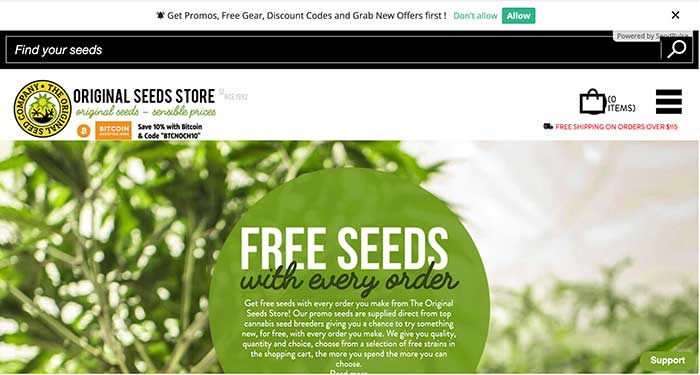 Commission: 15% to 20%
Cookie Length: 180 days
The Original Seeds Store was established in 1992. They carry a wide selection of cannabis seeds. They give away free seeds with every order which enables customers to try something new.
They offer worldwide shipping as well. Their affiliate program has a minimum commission requirement of €100 before pay out. They pay via bank transfer. Commissions under €100 can be paid out via bitcoin or store credit.
9. Fast Buds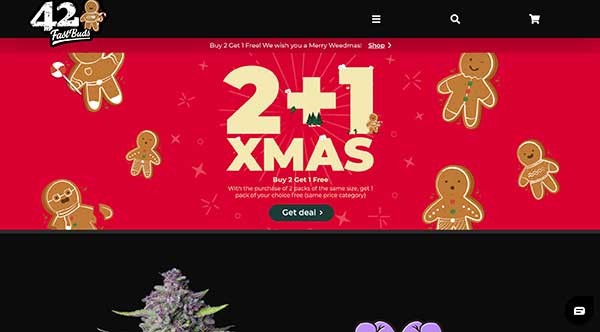 This company specializes in autoflowering seeds. Fast Buds has spent years working on creating top-shelf strains. Their autoflowering genetics has won awards all over the globe.
The Fast Buds affiliate program offers tiered commissions starting at 20% up to individual commissions based on high-volume sales. You can also earn commissions on your affiliate referrals.
Commission: 20% and up
Cookie Length: 180 days
10. The Seed Connect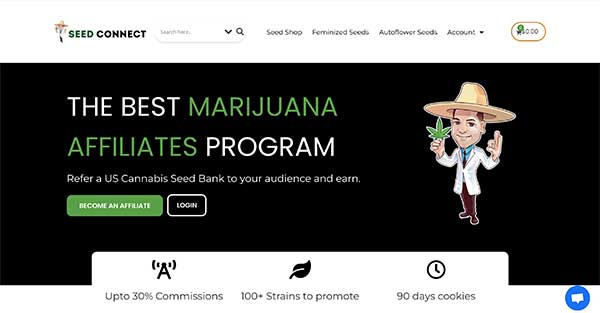 Seed Connect is a US-based cannabis seed bank with a large catalog of seeds spread through Regular, Feminized, & Auto flower Seed Categories.
Commission: Up to 30%
Cookie: 90 days
Sign up bonus: $250
Based in Tempe, Arizona USA, Seed Connect serves thousands of clients in the USA, Canada, UK, Spain, France, Australia, Brazil, and all other countries worldwide.
Seed Connect has raised the bar for US shipping with deliveries arriving in 1-7 working days.
They have a customer loyalty program that gives clients seed points for every action they take on their website. This in addition to the exceptional customer care and a germination guarantee is steadily positioning the Seed Connect as the go-to US marijuana seed bank.
If you have an Arizona audience, the Seed Connect is also the leading supplier of marijuana clones and premium soil.
Why You Should Promote Seed Connect
Better conversions, more money for you because:
We are a US-based seed bank.
Fast shipping with a guarantee of 1-7 days deliveries in the US
Customers can check out with Credit Cards and Bitcoin
Free shipping for orders over $100
How to Promote Cannabis Seeds Affiliate Programs
The cannabis seeds market is a lucrative niche to be in. Have you thought about how to promote this niche?
One of the best ways to promote cannabis seeds affiliate programs is by creating a niche website.
I've had my best success in affiliate marketing by creating niche websites (blogs) related to the niche that I choose.
Niche blogs generate free targeted traffic. Once you have traffic, you can sell anything.
The key is to create helpful and informative content for your niche audience. The way to do this is by researching what your niche audience is searching for.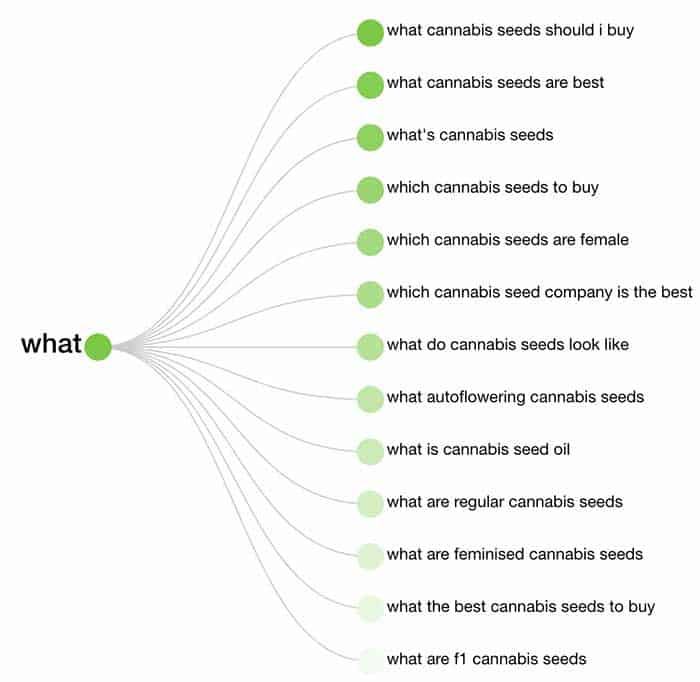 By doing a bit of keyword research, you can come up with tons of article ideas for your blog.
Over time, your content will rank in the search results and these targeted visitors are more likely to click on your affiliate links.
Believe me, this is a tried-and-true method of generating affiliate commissions.
Besides that, most affiliate programs require a website during the sign-up process. You only improve your chances of approval by having a niche blog.
The Benefits of Niche Blogging
Free Web Traffic
There are so many benefits to niche blogging. For one thing, the content that you create generates free targeted web traffic.
This traffic can last for years to come. Niche blogs are, in my opinion, virtual real estate.
You create your website, invest the time to develop it with content, and it provides income for many years.
Branding
As you grow your blog, you are also creating a brand. You can extend your brand by creating social media profiles.
A YouTube channel is especially helpful in branding. Connect your blog to your YouTube channel by linking out to it in your video descriptions.
It is another way to send free traffic to your website. It isn't uncommon for a niche blog to develop into an authority website over time.
Unlimited Earnings
The great thing about promoting affiliate products on a blog is that there are no limitations on your income.
The harder you work, the more income you can make. It is about consistent effort.
There are many successful bloggers that earn anywhere from four-figures per month to five-figures or more per month.
My Closing Thoughts On Promoting Cannabis Seeds Affiliate Programs
I feel that the cannabis industry as a whole will only continue to trend upward. More people are using cannabis for medicinal purposes in the form of CBD oil, edibles, tinctures, and more.
Some people prefer to grow their own cannabis plants so that they know exactly what they are getting.
The easiest way to get started with making commissions is by creating a niche affiliate website.
I got my start by following a step-by-step affiliate marketing training course. I now use this same training course to help other people one-on-one to develop their own niche blogs.