Joining bookkeeping affiliate programs is a great way to recommend awesome software and earn commissions in the process.
I used to be a freelance web developer for years and one of the most used pieces of software for me was bookkeeping software.
Today there are a plethora of online bookkeeping services to choose from. These services make it easy to invoice clients, track your billable hours, and stay current with your earnings.
Ready to make commissions with these affiliate programs? Learn how I earn a consistent income online. Click here to learn how I did it.
Bookkeeping Affiliate Programs
Freshbooks
Webgility
Shoeboxed
Neat
ZarMoney
Quaderno
Craftybase
1. Freshbooks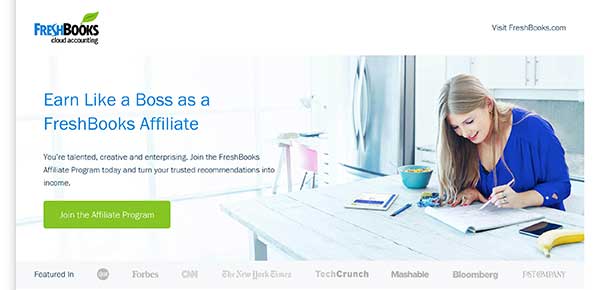 Commissions: $5 per trial signup and $55 per sale
Cookie Length: 120 days
Freshbooks is one of the most popular online bookkeeping software available. Freshbooks has a clean interface and is super easy to use. You can track your billable hours and automate tasks such as invoicing and organizing expenses. It is cloud-based software so you can access it easily from your desktop, phone, or tablet.
The commission and cookie length with this affiliate program is great. You can earn $5 per trial sign up and $55 per sale. As long as someone signs up for the trial with the 120-day cookie, you are credited with the sale.
2. Webgility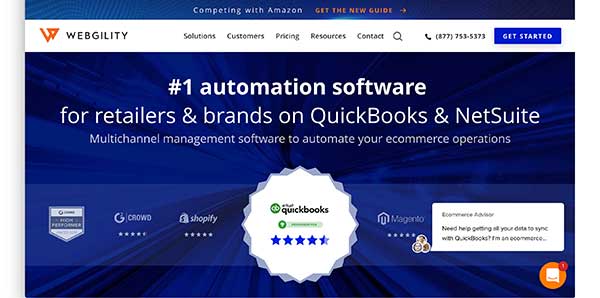 Commission: Tiered
Cookie Length: 90 days
Webgility is a multichannel management software that automates eCommerce operations. It integrates with various eCommerce business apps and platforms. This software can automatically track sales and returns, record sales taxes, and track marketplace fees, shipping fees, and payment fees.
This software is ideal for eCommerce store owners that need to keep accurate sales records and have all transactions recorded into QuickBooks or Netsuite.
3. Shoeboxed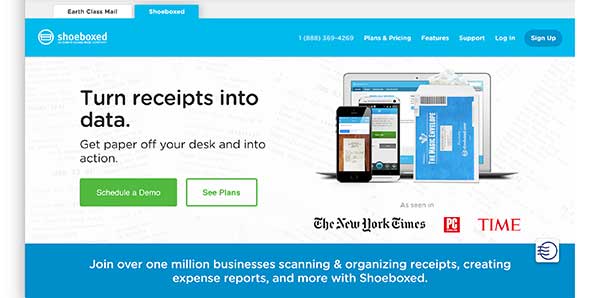 Commission: Trial – $30, Lite – $30, Classic – $40, Business – $60
Cookie Length: 60 days
Shoeboxed helps business owners to organize receipts and create expense reports. Users can mail in receipts in a pre-paid envelope provided by Shoeboxed or scan them in using their mobile app. They extract all key data and then users can categorize and export their data.
Any business understands the hassle of keeping up with receipts. They often get lost or put off until tax time. This software eliminates that hassle and makes receipt tracking easy.
4. Neat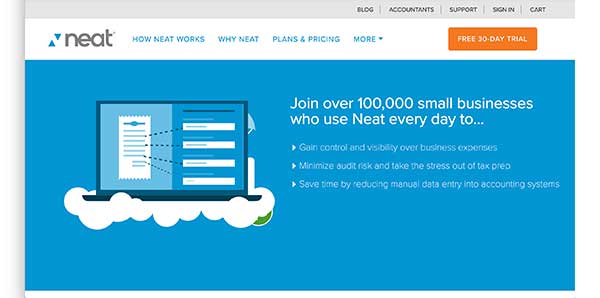 Neat is software that business owners can use to help track expenses, stay up to date with cash flow, and be prepared for tax time. Users can scan receipts with the mobile app or email them in. They also offer a 30-day free trial so that is an incentive for people to sign-up.
The neat software can be used with their desktop utility or mobile app. They also provide users with a personalized email address so that vendors can email invoices directly to Neat.
Unfortunately, there wasn't much information on the affiliate page. The affiliate program is managed through Commission Junction or LinkConnector.
5. ZarMoney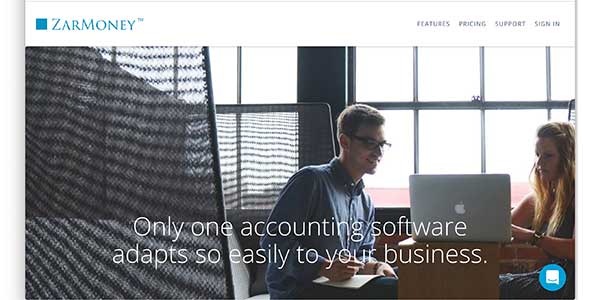 Commission: $10 for free sign-ups, $60 paid sign-ups
Cookie Length: not disclosed
ZarMoney is cloud-based accounting software that handles invoicing, billing, cash flow, warehouse management, and more. They offer a free single-user plan which is great for conversions. This software is great for any business that deals with customers, vendors, or inventory.
The affiliate program is managed by ShareASale.com. They pay out monthly. Cookie length was not disclosed.
6. Quaderno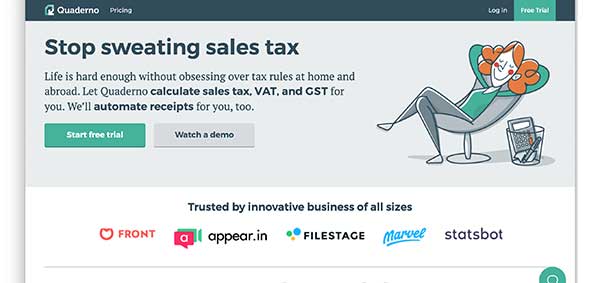 Quaderno is software that calculates the correct sales tax for eCommerce stores. The user connects Quaderno to their store and it automatically tracks your sales vs. international tax thresholds. The software will also automatically generate a receipt in your customer's language and currency.
What is great about this software is that it automates the sales tax for a store's products all over the world. Quaderno integrates with over 15 different eCommerce and payment software.
7. Craftybase
Commission: 7.5% for the first 12 months
Cookie Length: 30 days
The Craftybase software caters to handmade businesses (think Etsy sellers). The software calculates COGS (cost of goods sold) based on manufacture and material cost history. It will also tract internal labor costs. Craftybase integrates with Etsy, Shopify, Square, PayPal, Woocommerce, and Amazon.
This bookkeeping software serves a niche that is often overlooked. The handmade goods industry is large and continues to grow. Promoting this software will likely lead to high conversions.
How To Promote These Bookkeeping Affiliate Programs
Bookkeeping software is needed by any small business owner, particularly freelancers, consultants, eCommerce store owners, and more.
When I was a freelance web developer, I found online bookkeeping software to be a lifesaver. It made it easy to keep track of my billable hours and to send invoices.
I can't remember the name of the software that I used back then but they made it simple for clients to pay me via PayPal.
That is why promoting bookkeeping affiliate programs should be fairly easy. You are recommending products that most solopreneurs and small business owners can't say no to.
Create an Affiliate Niche Blog
I struggled to make affiliate sales until I learned how to create niche blogs. Niche blogs focus on one specific topic.
In this case, your niche could be around small business owners that need this software.
You could create content that helps your niche solve specific issues. Money is made by recommending these affiliate products within your content using your affiliate links (provided by the affiliate program.)
A niche blog has the potential to earn four and five figures per month with hard work and consistent effort.
For example, targeting the handmade crafts niche has a lot of potential. By creating a blog focused on building a handmade crafts business, you could easily promote the Craftybase software mentioned above.
You Do Not Need To Be an Expert
The great thing about affiliate niche blogs is that you do not need to be an expert on the niche that you choose.
You can have a strong interest in the niche but if you are not familiar with it, you can always create content from the viewpoint of a beginner.
Sharing what you learn as you go along is a great way to build an audience. Many people start off as beginners and like to read the experience of others that are starting out as well.
My Closing Thoughts On Bookkeeping Affiliate Programs
I think that bookkeeping affiliate programs are a great evergreen niche that you can promote and earn a consistent online income with.
If you are ready to dive into affiliate marketing, it is important to learn how to drive traffic to your website.
Affiliate marketing can create a lifestyle of time freedom and financial stability.
It won't happen overnight but your path can be easier when following a step-by-step training course.
That is exactly what I did and I was able to take one of my niche blogs from zero to earning a consistent monthly income using this training course.