Whether you are a bodybuilder or have a strong interest in the bodybuilding niche, you have plenty of opportunities to earn from bodybuilding affiliate programs.
You don't have to have your pro card to make money in bodybuilding. There are other areas in which you can earn income in the fitness niche.
Affiliate marketing is just one of these opportunities. One of the ways to make money is by joining bodybuilding affiliate programs and promoting them from your website or social media accounts.
Below are twelve bodybuilding affiliate programs that you can consider to earn commissions with.
How I Make $1,000 Commissions Using a Simple 2-Page Website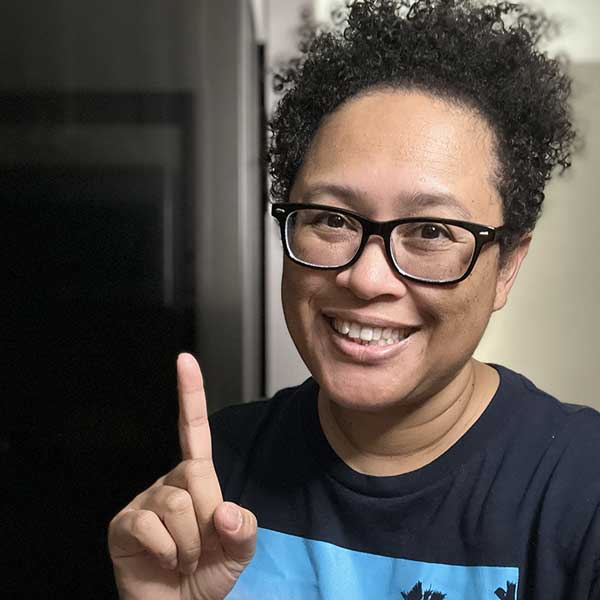 Hi! I'm Eartha, the author of this blog and an affiliate marketer. The purpose of my website is to help other affiliate marketers discover new affiliate programs and ways to earn more income online.
That being said, one of the ways I make a steady income online is by promoting high-ticket affiliate offers.
Rather than focusing on low-ticket affiliate products, I spend my efforts promoting affiliate products with a high-ticket price.
That means I'm able to scale my business up faster by earning high-ticket commissions.
If you are ready to level up your affiliate income, click the link below to learn how I was able to start making $1,000 commissions and up:
Bodybuilding Affiliate Programs
Bodybuilding.com
Vegetarian Bodybuilding
Muscle & Strength
My Supplement Store
Stacked Brands
Fat Gripz
Supplements Geeks
John Doe Bodybuilding
Anabolic Cooking
Plant Based Bodybuilding
Hyperwear
Primal Muscle
1. Bodybuilding.com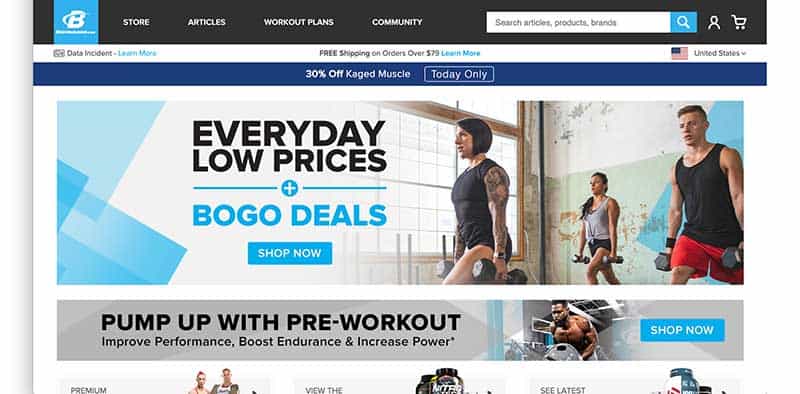 URL: https://www.bodybuilding.com
Commission: 5% online sale or $9 All Access subscription
Cookie Length: 1 day
The Bodybuilding.com website is one of the longest-running and most authoritative bodybuilding websites out there. There are two options to promote as an affiliate.
The first option is by promoting the online specialty sports nutrition store. The second option is to promote the All Access subscription service. Bodybuilding.com is part of the Pepperjam affiliate network.
2. Vegetarian Bodybuilding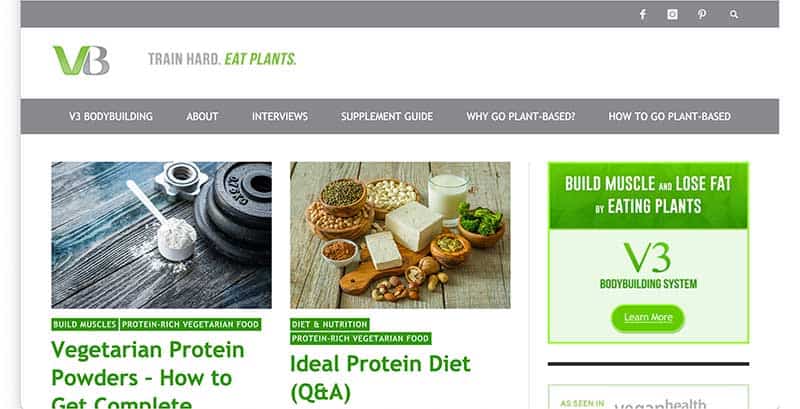 URL: https://www.vegetarianbodybuilding.com
Commission: 50%
Cookie Length: 60 days
This product is called the V3 Bodybuilding System. Is a vegetarian bodybuilding nutrition program founded by Chris Willitts. This is a great niche as there bodybuilders that are vegetarian, vegan, or simply want to eat less meat.
It is part of the Clickbank affiliate network. Most of the products on Clickbank offer high commissions. This particular product is priced at $97 with a 50% commission.
3. Muscle & Strength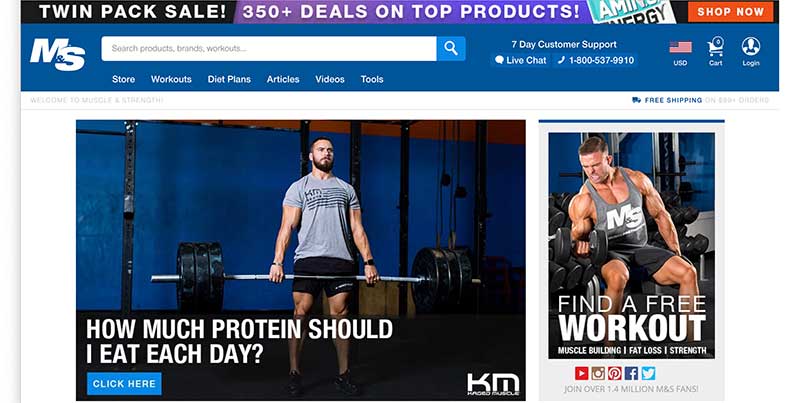 URL: https://www.muscleandstrength.com
Commission: 10%
Cookie Length: Not disclosed
Muscle & Strength is a well-known fitness website. They have an online store that carries over 7,000 products. They are part of the Commission Junction affiliate network. They offer a 10% commission but do not state the cookie length on the affiliate page.
4. My Supplement Store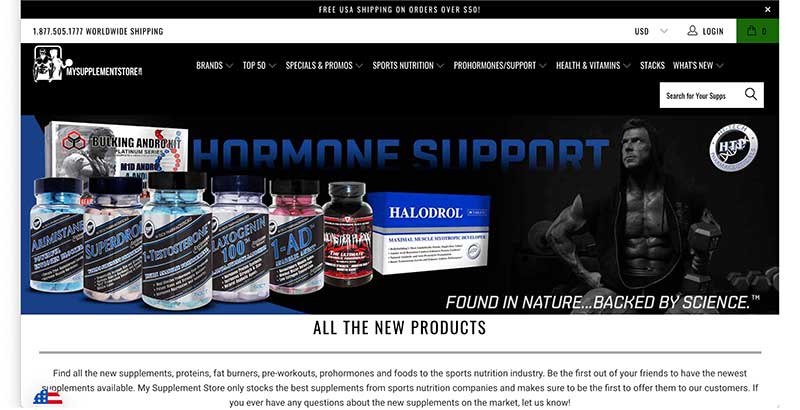 URL: https://www.mysupplementstore.com
Commission: 12%
Cookie Length: 30 days
The My Supplement Store website has been around for over a decade. They offer a 12% commission with a 30-day cookie for their affiliates and payout each month via PayPal. They ship out over 5,000 vitamins and supplements from their warehouse.
5. Stacked Brands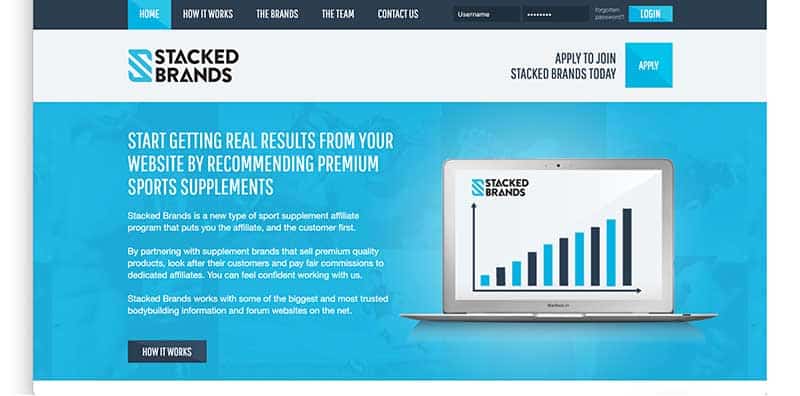 URL: https://www.stackedbrands.com
Commission: 30% depending on product
Cookie Length: Not disclosed
This particular affiliate program works a bit differently than most bodybuilding affiliate programs. For one, they work with premium supplement companies. This eliminates retailers which increase your commission rate.
6. Fat Gripz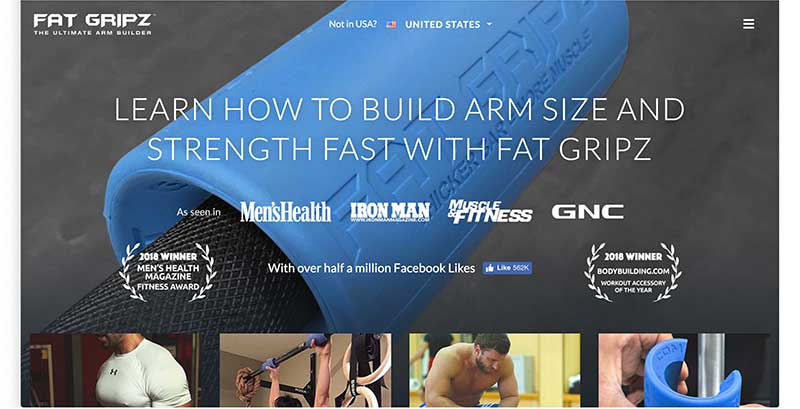 URL: https://www.fatgripz.com
Commission: 4% (Amazon), 5% (Bodybuilding.com)
Cookie Length: 24 hours
I am actually familiar with the Fat Gripz product as I bought them for my dad a few years ago. This is a great product to promote in the bodybuilding niche.
They let you know that you can sign up with either the Amazon or Bodybuilding.com affiliate programs. The Bodybuilding.com commission rate is 5%. Amazon Associates is 4% but could vary depending on what category they place this item in.
7. Supplements Geeks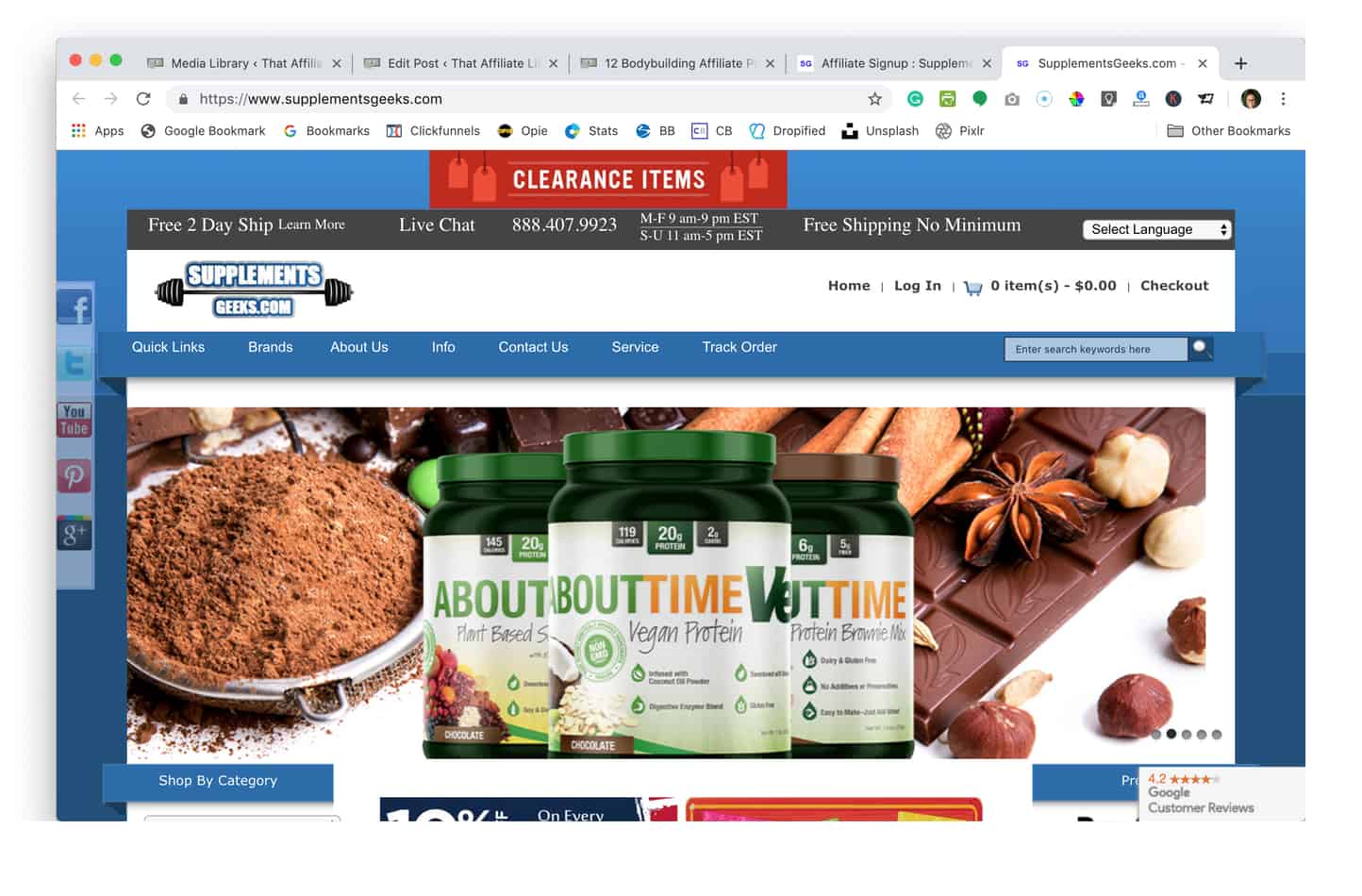 URL: https://www.supplementsgeeks.com
Commission: 10%
Cookie Length: Ongoing
Supplements Geeks is an online retailer offering a large range of products such as proteins, discount vitamins, supplements, health foods, and more. What is nice about this company is that they ship to 150+ countries and their website supports 90 different languages.
8. John Doe Bodybuilding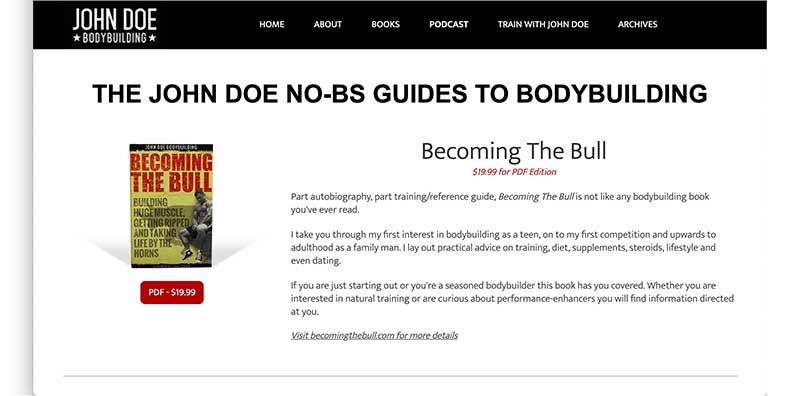 URL: https://johndoebodybuilding.com
Commission: 75%
Cookie Length: Not disclosed
The John Doe products are a no-nonsense set of eBooks that address topics such as training, diet, supplements, steroids, and the overall bodybuilding lifestyle. The affiliate commission is 75% and is run through the E-Junkie platform.
9. Anabolic Cooking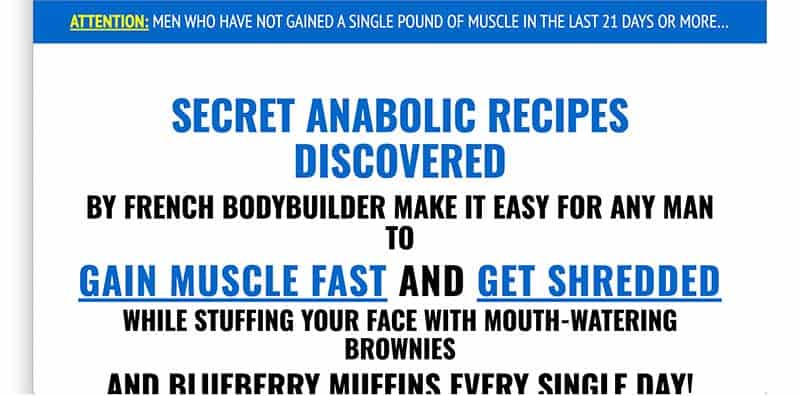 URL: http://www.anaboliccooking.com
Commission: 75%
Cookie Length: 60 days
Anabolic Cooking is a nutrition and recipe guide for bodybuilders. It is run on the Clickbank network and offers a 75% commission. The book has over 200 recipes. It is co-authored and promoted by Alain Gonzalez who is an authority in the online muscle building community.
10. Plant Based Bodybuilding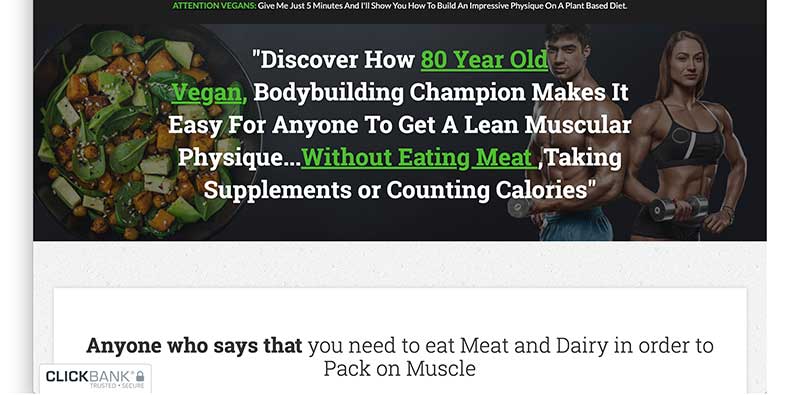 URL: https://www.plantbasedbodybuilding.com
Commission: 75%
Cookie Length: 60 days
This is another bodybuilding nutrition guide but it focuses on the sub-niche of plant-based nutrition. There are many in the fitness community that are turning toward less meat or no meat diets but still want to gain muscle. This affiliate program is managed by Clickbank and offers a 75% commission.
11. Hyperwear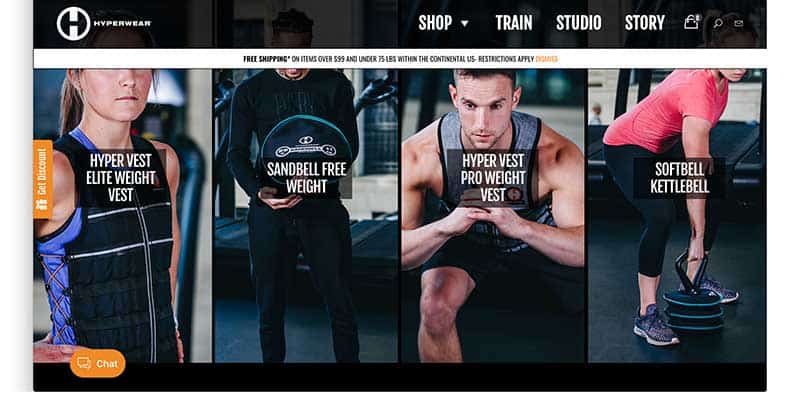 URL: https://www.hyperwear.com
Commission: Not disclosed
Cookie Length: Not disclosed
Hyperwear sells a variety of weight training tools such as weighted vests, Sandbell®, Stealbell®, and Softbell® weights. It is an awesome product line. Unfortunately, there isn't much information on the affiliate page except that the affiliate program is managed by the Pepperjam network.
12. Primal Muscle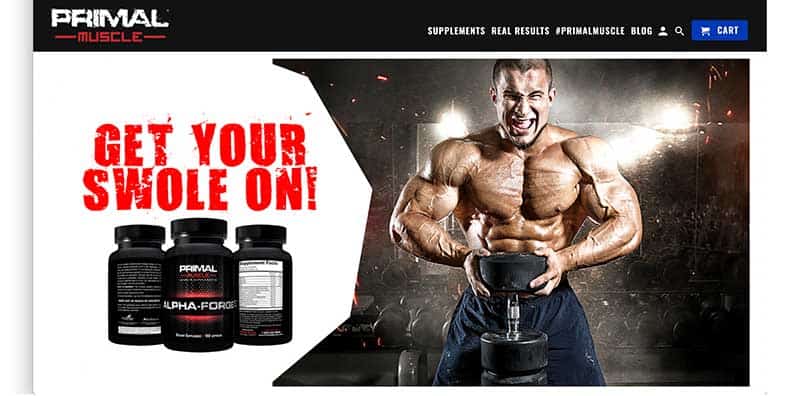 URL: https://primalmuscle.com
Commission: 15%
Cookie Length: Not disclosed
Primal Muscle is an online retail shop that sells their own brand of nutritional supplements for bodybuilding, weight lifting, endurance sports, team sports, running, track & field, MMA, Cross-fit®, weight loss, overall general health. They offer a 15% commission on any sale with average orders of $200.
How To Best Promote Bodybuilding Affiliate Programs
The one advantage of affiliate marketing is that you can promote products in a variety of ways. If you have a budget, you can pay for ads and send people to a sales funnel.
You can also use free marketing methods such as social media and a blog. Niche blogging has been my number one method for promoting affiliate products.
It is low-cost to start and as your blog gains traction by you creating new content on a regular basis, you gain free organic traffic which means more sales and commissions.
If you already have a genuine interest in the bodybuilding niche, content creation will come easily. Then it is a matter of recommending various products that you may use or know will benefit your readers.
These recommendations are what result in sales. Niche blogging is a long-term online business model that can return massive results if you remain dedicated and learn essential affiliate marketing strategies.
Closing Opinion On Bodybuilding Affiliate Programs
There is definitely money to be made in the bodybuilding and overall health & fitness niche. If you are passionate about bodybuilding, you can build a following on Instagram as well as with a blog.
Once you have some traffic, it is easier to promote these or any other bodybuilding affiliate program of your choice. The key is to create content on a consistent basis.
It took me years of trying to figure out how to make money with affiliate programs. It wasn't until I took it seriously and searched for a legit affiliate marketing course that I was able to find success.
Affiliate marketing isn't easy but you can navigate your way through it and start earning income online by following a step-by-step training program like this.
NEXT: Why This Make Money Online Strategy Works for Most People