I've been an AWeber user off and on for years. I'm currently using AWeber for email marketing today. In this AWeber affiliate review, I will share a bit more about how AWeber works and talk about their awesome affiliate program.
AWeber is an email marketing platform used by hundreds of thousands of small business owners to send both autoresponder and broadcast email messages. They have been in business for 20 years and going strong. They are also one of the top email solutions for internet marketers.
I've tried other email marketing providers in the past and have always come back to using AWeber. I feel that it is easy to use and they have a great affiliate program which is a plus when I recommend them.
Product Details:
URL: https://aweber.com
Product Price: $19/month, $29/month, $49/month, $69/month, $149/month
Commission: 30% recurring
Ready to make commissions with AWeber? Learn how I went from zero to consistent affiliate commissions. Click here to learn how I did it.
What is AWeber?
Tom Kulzer founded AWeber in 1998. For as long as I can remember, AWeber has been the most recommended email marketing service in the internet marketing industry.
When you ask about an autoresponder service, I guarantee AWeber will be one of the most recommended.
Besides sending out pre-made messages at specific times, users can also send broadcast messages at any time they like.
I have been using AWeber for both types of messages for many years. You can even set up blog broadcasts which will shoot out a new message to your subscribers when you post a new blog post.
AWeber has a ton of other features as well. Some that stand out are tagging, subscriber segmenting, split-testing, integrations, sign-up forms, autoresponder follow-ups, and more.
Their customer support is awesome as well. I've rarely ever had to reach out to customer support but when I have, they respond in a timely manner and are very knowledgeable.
The starting price is $19 per month and there is a free 30-day trial when you are a new customer. You can learn more about AWeber by visiting their home page.
AWeber Affiliate Review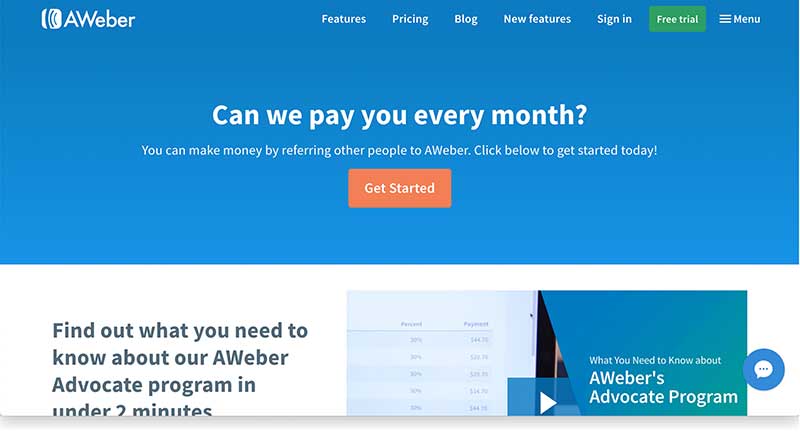 AWeber's affiliate program is managed in-house. There is a 30% recurring commission. That means you will receive 30% of all of your referral's monthly payments so long as they remain a customer.
They provide sales statistics, new sale alerts sent to your email, articles and ads that you can use, and a customer referral newsletter that offers tips on how to promote AWeber.
Payments are made every month on the 1st of each month. Commissions are paid by check or PayPal.
Your account must accrue $30 before payment is sent if you are in the U.S. Accrual amount must by $50 if you are outside of the U.S.
Why AWeber is Worth Promoting
When it comes to a reliable, reputable, and trustworthy email marketing company, AWeber is just that. They have been in business since 1998.
They also have an excellent reputation among internet marketers. They are often the go-to recommendation for building an email list.
The fact that their affiliate program offers recurring commissions is also a plus for affiliate marketers. Affiliate programs with recurring commissions are some of the best affiliate programs to join.
Another reason I like recommending AWeber is because of its longevity. It is difficult to find products and services that have been around for years and will continue to stay around.
If you are going to spend time promoting something, you don't want it to disappear 6 months later.
Ready to make money with AWeber? Learn how I went from zero to making consistent affiliate commissions. Click here to learn how I did it.
How to Promote AWeber as an Affiliate
One of the best ways to promote AWeber, in my opinion, is to create a niche website and recommend it within your content.
Niche websites are excellent for promoting affiliate products. It is how I got my start in affiliate marketing and it is still the method I use today to generate consistent affiliate commissions.
A niche website is essentially a blog that focuses on one topic. A blog requires content posted on a regular basis.
It is this content that will eventually be crawled and indexed by the search engines. When your posts are indexed and ranking in the search results, your blog then receives free targeted web traffic.
Once your niche blog starts getting traffic, it can also begin generating income.
Creating Your Niche Website
I build all of my websites using a self-hosted WordPress blog. Avoid free website services as you do not have 100% ownership of your website.
You can get your own self-hosted WordPress website with most web hosting providers. However, I recommend using WPX Hosting. I recently migrated this website over to their servers and it has improved my website speed significantly.
Most web hosting providers offer domain registration, hosting, and have one-click WordPress installation. Once you have your WordPress website up, it is a matter of creating helpful content for your niche audience.
There is a bit more to it and I had to learn the ins-and-outs of creating content when I started. I didn't want to waste time trying to figure it all out on my own so I found an affiliate training program that I am still a part of today.
Quick Tips for Writing Content
Create 1 to 2 new blog posts per week
1,000+ words per post (ideally)
Keyword phrase in your title and first paragraph
Add a call-to-action link or button at the end of each post
My Closing Thoughts On This AWeber Affiliate Review
AWeber is a great product to promote as an affiliate. Almost everyone that runs an online business will need email marketing software.
The company has longevity and offers a generous recurring commission. I've been a customer of AWeber for years and I know that it converts well.
Their 30-day free trial helps with conversions as potential customers acclimate to using the platform. Customer support is awesome and they offer key features to meet most business owner's needs.
I recommend promoting AWeber by creating a niche website if you don't have one already. Content marketing works well for promoting affiliate products.
Niche websites are what I use to earn a consistent income online through affiliate marketing.
It is one of the best ways to earn affiliate commissions. I make commissions while I am sleeping, out grocery shopping, or relaxing with my loved ones.
Beginners may find it a bit challenging to get started. I did as well so I followed a step-by-step training program.
That training program made all of the difference for me and I use it today to help others one-on-one with creating and growing their own niche websites.