The art supplies market is a million-dollar market. According to IBISWorld, the art supplies stores industry is $843.1m in 2020. I've done some research on several art supplies affiliate programs and Arteza's affiliate program stood out to me among the rest.
Arteza's art supplies affiliate program offers a 15% commission and 30-day cookie length. The affiliate program is managed by ShareASale with an average order value of $52.61.
The art niche is one in which affiliate marketers can expect steady sales. These supplies are purchased on a regular basis and there is a wide variety of products to promote.
I will share my preferred method of making consistent affiliate commissions.
Tired of not making sales? Learn how I went from zero to consistent affiliate commissions every month. Click here to learn how I did it.
Arteza Art Supplies
This company is based in North Miami Beach, FL. The company is operated by artists, designers, musicians, and creators. They carry a large variety of art supplies to include:
Markers & pens
Paint & mediums
Pencils & pastels
Paper & boards
Canvas & surfaces
Art sets & bundles
Crafting
Brushes & tools
There is a wide enough variety of products that provides affiliates with plenty to promote.
Free Shipping On All Orders
One nice benefit that you can upsell to your audience is the free shipping. There is no minimum order to qualify for free standard shipping. Expedited shipping is only $4.00.
24/7 Customer Support
Arteza also has 24/7 customer support. They can be reached by phone, live chat, and email. This is not a common feature offered by other art supply companies. You can mention this in your marketing as an added benefit to ordering from the company.
Why Join Arteza Art Supplies Affiliate Program?
I came across several different art supply companies but Arteza stood out to me the most. A majority of other art supply affiliate programs offered commissions around 10% or less.
However, Arteza's affiliate program offers a 15% commission and 30-day cookie length. Besides that, they offer some nice perks that other art supply companies don't.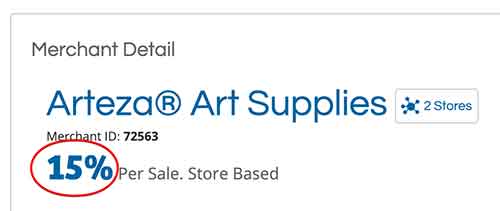 As an affiliate, you can upsell these perks to help increase conversions. The first perk being free standard shipping. There is no minimum order amount to receive free shipping.
They also have 24/7 customer support which I have not heard of with other art supply companies. Customers can reach customer support via live chat, phone, or email.
As an affiliate marketer, it is important to refer your audience to great companies with high-quality products
How to Best Promote Art Supplies Affiliate Products
A niche website is my preferred method for promoting affiliate products. A niche website is a type of website that focuses on one topic.
The reason they work so well is due to the content that you create (blog posts). The content that you write is based on keyword phrases that your niche audience is searching for.
Over time, your content is indexed and ranked by the search engines such as Google and Bing. The main benefit to this is that your website begins to receive free web traffic related to your niche.
When I got started, I had no real direction on how to make money with a website. I searched for an online training program that would teach how to make money with a niche blog. I found this program and it made a tremendous impact on my online business.
Implementing what I learned there is what helped me to transition out of a full-time retail job to being able to work on my blog full-time. I am still a part of that training platform today and help others with creating their own niche websites.
Choosing an Art Subniche
The nice thing about art supplies is that there are many art subniches that you can choose from. Choosing a subniche makes it easier for your content to rank.
There is less competition and you can create content for a very specific audience. For example, you could target subniches such as:
Doodles
Water color
Sketching
Sculpting
Acrylic paint
There is nothing wrong with creating a general art website but I always prefer niching down further when it is possible to do so.
Creating Content for Your Niche Blog
Your content is the key to making money with your website. Without traffic, no one will click on your affiliate links. Therefore, your goal should be to create the most helpful content that you can.
Go into each post that your write with the goal of helping your readers. I can't tell you how much it helps to increase conversions.
Write for your readers and not for the search engines. Yes, there are some SEO skills that you should learn and implement. However, in the end, it is about providing helpful content.
Any new post that I create begins with keyword research. There are free and paid keyword tools that you can use. Lately, I've been utilizing Google Search and its autosuggest feature.
Simple, I know, but it works. I've received many first page Google rankings using this method alone.
Doing keyword search first lets you know exactly what people are needing answers for. You can generate unlimited blog post ideas by researching first.
Put yourself in the place of your niche. What types of things would you type in if you were in need of art supplies for a project? Or what types of questions would people ask for learning how to create a painting or learning how to sketch?
Types of Posts You Can Write
Changing up the types of posts that you write is also helpful. It alleviates boredom for you and your readers. You can switch up between the following:
How-to
Lists
Best of
Product reviews
Opinion
Sometimes I will even throw in a piece of content that I did zero keyword research for. Even those types of posts can rank well. I've received tons of web traffic on blog posts that I knew my niche would search for.
Closing Thoughts On Art Supplies Affiliate Programs
Overall, I feel Arteza has great products and an excellent affiliate program. Is it the only art supplies affiliate program that you should promote? Absolutely not. You always have the option to join as many as you want.
As far as generating consistent affiliate commissions in this niche, my recommendation is creating a niche website. Niche websites are excellent for promoting affiliate products. They are low-cost and easy to maintain.
I got my start with affiliate marketing by creating a niche website and it is what I continue to do today for my online business.
If you are ready to level up your affiliate earnings, consider following the same step-by-step training program I followed. It made a big difference for me.
I use that same training program today to help others one-on-one with creating their own niche websites.