Does the idea of operating a home-based business sound like the dream job? If you don't mind working in customer service, then Arise may be the perfect work from home opportunity for you.
Arise connects companies with Service Partners who provide customer, sales, and technical support services from home. This is accomplished through Arise's virtual technology and support platform.
I understand how important it is for many people to find a way to work from home. Sometimes life circumstances don't allow us to work outside of the home.
Or it may be about having the freedom to be your own boss. Let's dive into Arise and learn what the requirements are and how much you can earn.
While work from home opportunities are great for many people, it is still trading hours for dollars. I much prefer passive income.
I'll also share what it is that I do to earn a steady income online without dealing with clients or customer service.
Learn how I quit a full-time retail job to work on my website full-time promoting other people's products. Click here to learn how.
Is Arise Work From Home Legitimate?
This is likely the biggest question that you want to be answered. The short answer is yes. As far as I can tell, there are no red flags that signal to me that Arise is a scam.
The company was established in 1994 and they offer the platform and technology that enables anyone to offer customer support services to their clients.
Many of the companies that utilize Arise Service Partners are often Fortune 500 companies. Arise also ensures that those who sign up are legitimate themselves.
What is an Arise Service Partner?
When you sign up to the Arise platform, you'll be signing up as a Service Partner. You'll have the option to start your own call center business or work for an IBO (Independent Business Owner).
Upon completing your application, you'll be able to select a client opportunity and complete a certification course that will prepare you to provide customer support for that client.
After you have successfully completed a certification course, you will sign a Statement of Work (SOW) for the client opportunity. Most SOW's last for about 3-months.
Arise Equipment and Start-Up Costs
When you become a Service Partner, there will be some start-up costs. These start-up costs can include your initial client program certification course, equipment (headset, computer equipment, WiFi, etc.), and if you plan on starting your own customer service company, there are even more costs.
If you plan on incorporating your business, the cost will vary based on your state. Otherwise, you can expect estimated costs for:
Phone line – approximately $75
Telephone keypad and VOIP/Gaming Headset – $35 – $100
Initial Client Program Certification Course – $50 – $250
There are also recurring monthly costs that you should be aware of. These costs include:
Platform usage fee – $39.50 per month, per agent
High-speed internet – approximately $60 per month
Phone line – $18 – $35 per month
You can get all of the details on the Arise cost page.
How Do You Get Paid On Arise?
As far as what you can make per hour, it will range anywhere from $10 to $16+. Keep in mind that you are not working directly for Arise.
Your compensation will be based on the arrangement set between you and the company you are providing service for.
Pros and Cons of Using Arise
There are some definite pros and cons to using this platform. I'm sure that this service is a blessing to many people that need to supplement their income or cannot work outside of the home.
Let's start with the pros.
For one thing, you can work from home. This is likely the main draw of considering the service. Another plus is that they make it easy to get started.
You can choose to start your own call center business from home or you can remain a Service Partner and work for an already established IBO (Independent Business Owner) on the platform.
Being a customer service agent can provide some consistent income if that is what you're looking for.
Another plus is that you can work your own schedule. Therefore, if you do have a job outside of the home, are a stay-at-home parent, caregiver, etc., you can work the hours you need.
Now for the cons.
I would say the biggest con is the start-up costs. Even if you do not plan on starting your own call center business, there are some expenses that you'll have to pay.
You'll need all of the computer equipment which you may already have. One YouTube reviewer stated that a requirement is having dual monitors.
Also, you'll need to have high-speed internet, a headset, and phone line. Plus, the recurring fee of $39.50 per month to use the Arise platform.
If you plan on incorporating a business, that fee will vary depending on your state. All Service Partners much also pay for the Initial Client Program Certification Course.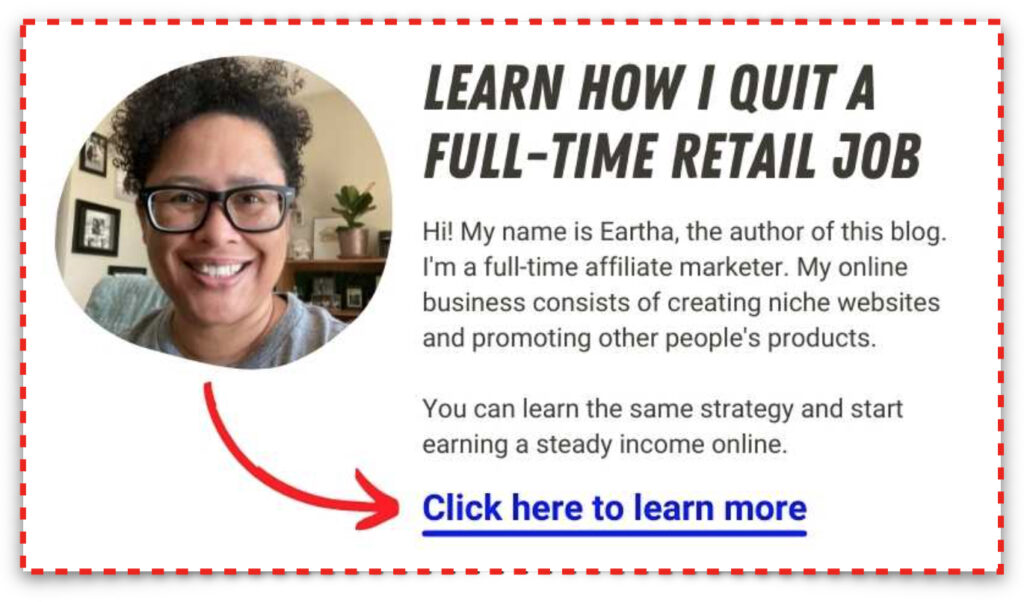 How I Earn a Steady Income Online Without Using Arise
I have to admit, customer support work is not my cup of tea. In fact, I loathe it! When I worked a retail job, it was difficult for me to like the job because it is all about customer support.
That is why I enjoy the work that I do today. I earn passive income online using websites and promoting other people's products.
This is referred to as affiliate marketing and it has a lot of advantages over the common ways to earn an income.
Some of my favorite include:
You don't need your own product
There is never any inventory to buy, store, or sell
Nothing to pack or ship
Never any customer service or support
Work from anywhere with a WiFi connection
Unlimited earning potential
Tons of affiliate products you can promote
Choose any niche you like
Create part-time or full-time income
No recruiting (not an MLM)
I became serious about affiliate marketing after a job layoff. I didn't want to try and figure it all out on my own so I found a reputable online training course.
Following that training and taking action on what I learned is what helped me to create my first successful niche website.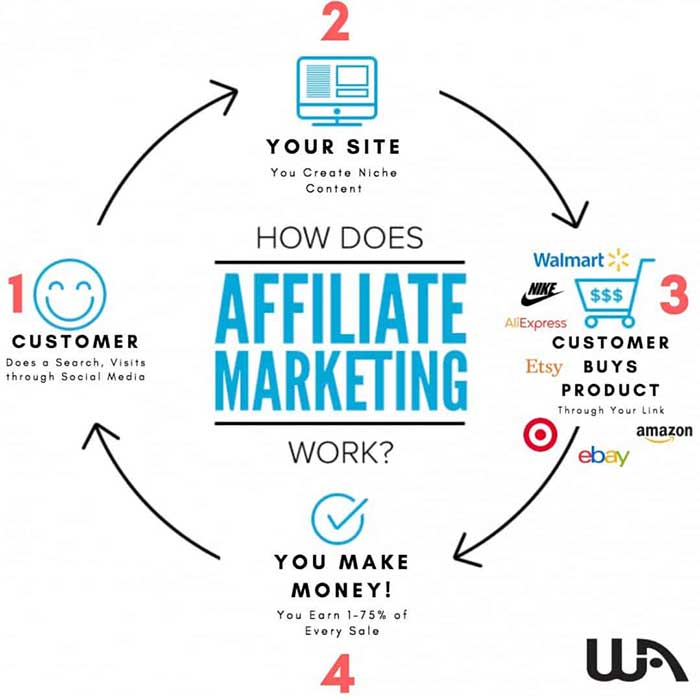 How it Affiliate Marketing Works
Have you ever recommended a good restaurant or book to someone? You have essentially done affiliate marketing.
The only difference is that you get paid when the people that you refer to a product or service buys the product or service.
Your referrals are tracked online using special tracking links called affiliate links. These affiliate links are provided to you by the company of which you are an affiliate.
Affiliate programs are free to join. Most affiliate programs require that you have a website related to the niche they are in.
For example, let's say you want to become an affiliate of a coffee roaster that you really enjoy.
You'll want to have a niche website related to coffee. A niche website is simply a website that focuses on one specific topic.
The fun part is that you can choose any niche that you want.
I have websites in the coffee niche, MMO (make money online) niche, and digital products niche.
Those are niches that I enjoy writing about on a regular basis.
The content that I create (blog posts) is what attracts free targeted visitors to my websites. A percentage of these visitors click on my affiliate links and buy products.
When that happens, I make commissions. It's simple!
Most affiliate programs pay commissions once per month via PayPal or direct deposit.
What You Need to Get Started
Starting a niche website is one of the easiest, low-cost, and low-risk online business models.
All that you need to start includes a domain name, web hosting, and WordPress. You can get all three from most web hosting companies.
Bluehost is an affordable web hosting provider that can set you up with what you'll need.
Closing Thoughts
I hope this post has helped you to learn more about what the Arise work from home service offers. I think it is a great solution for those that need a work from home gig.
Freeing yourself from a typical 9 to 5 is possible. I was able to do so by starting an online business.
The online business I started doesn't require having any clients or providing any customer support.
Find out how I earn a steady income online using nothing but a website. Click here to learn more.