Choosing between affiliate marketing or dropshipping is often a tough choice as both are great ways to earn income online.
They are both low-cost to get started and you do not need your own products. Deciding which online business model is right for you will be based on many factors.
Most of my experience is in affiliate marketing. However, I've opened a dropshipping store and have researched and written plenty of articles on the topic.
I will dissect each of these business models below. You will then have more information to help you make the best decision for your business going forward.
Please note that all business models come with risk so do your own research on both of these models as well.
How Affiliate Marketing Works
Affiliate marketing is a referral-based business model. Many companies have an affiliate program.
When you find a company or product that has an affiliate program, you can sign up to become an affiliate.
Once approved, you are provided with special tracking links called affiliate links.
You can place your affiliate links on your blog, social media profiles, or wherever it is possible to promote them without being spammy.
When people click your affiliate links and buy the product you are promoting, you earn a percentage of the sale which is your commission.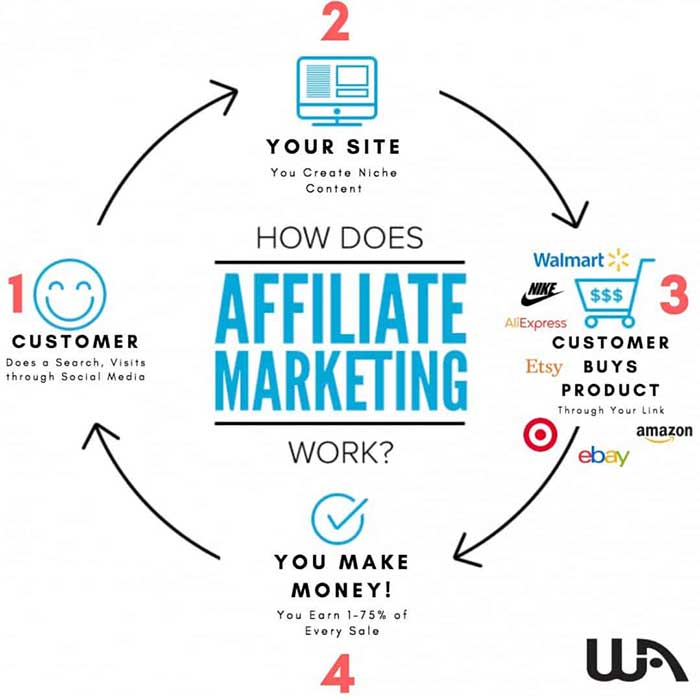 What Types of Companies Have Affiliate Programs?
Major corporations have affiliate programs. Some of these companies include:
Amazon.com
WalMart
Nike
eBay
Tony Robbins
VitaMix
Warby Parker
MLBshop
NBAStore
Zappos
Millions of products have affiliate programs as well. You can be an affiliate for different types of software, digital courses, and various physical goods.
Almost any type of product that you can think of can have an affiliate program.
How Much Money Can I Make From Affiliate Marketing?
Affiliate programs have different commissions. They can pay anywhere from 1% to 75% commissions or more.
Most of the products that I promote range between 30% and 50% commissions.
A majority of affiliate programs pay their commissions once per month via PayPal, check, or direct deposit.
How much you can make is totally up to you. If you treat your business like a hobby, you won't make many sales.
If you approach your business as a business, your income potential is unlimited.
Here is a screenshot of one of my affiliate payments from one affiliate program that I am a part of: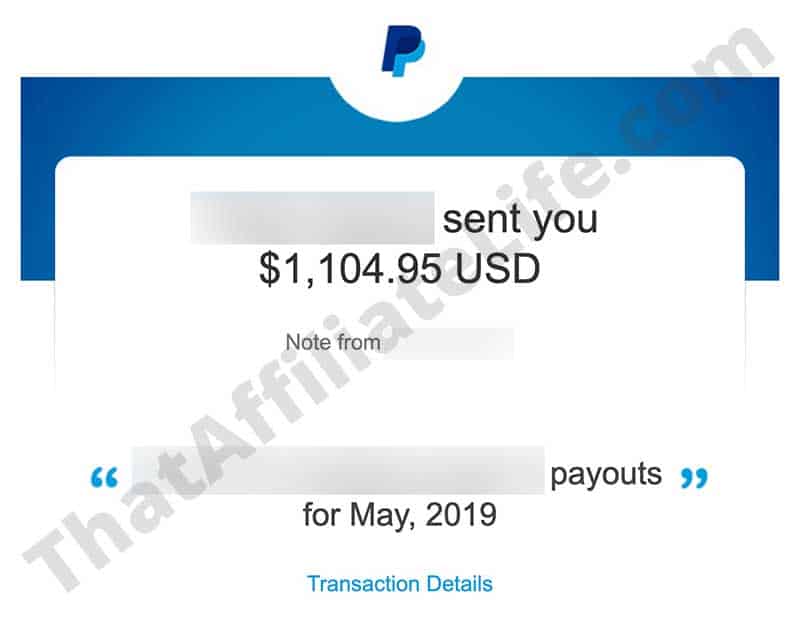 The Best Way to Start Affiliate Marketing
One of the best ways to start affiliate marketing is by creating a niche blog (niche affiliate website.) It is the method that I use to earn consistent affiliate commissions.
A niche blog is a type of website that focuses on one specific topic. You can choose any niche that you want.
For example, let's say that one of your passions is drinking loose leaf tea.
You buy all types of tea and you know how to brew tea at the appropriate temperature, how long to steep it, and even how to combine them for new flavors.
You could create a niche blog about being a tea lover. On your blog, you could promote different products that have affiliate programs.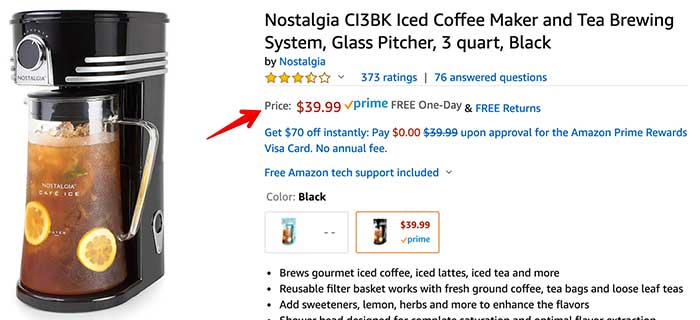 The image above is a tea brewing system on Amazon.com. Amazon has an affiliate program called Amazon Associates.
If you sign up to be an affiliate and after they approve you, you can promote any product on the Amazon.com website.
When I say promote, I mean recommending products related to your blog's niche.
You can write product reviews or simply talk about products that could help your reader.
Link to these products using your affiliate link and when someone clicks on the link and buys the item, you make a commission.
The Pros & Cons of Affiliate Marketing
Although affiliate marketing is my passion, it doesn't come without its disadvantages. Here are some pros and cons of making money through affiliate marketing.
Pros
You don't need your own product to sell
Millions of products you can promote
No shipping & handling
You don't deal with customer service
Unlimited earnings
Low-cost to start (you only need a domain name, web hosting, and WordPress)
Work from anywhere with a WiFi connection
Easy to maintain
Choose any niche that you want
Cons
It isn't fast money (it can take many months before you make a sale)
There are many skills you'll need to learn (SEO, Keyword research, etc.)
Commission structures can change
Affiliate programs can end depending on the company
Ready to start affiliate marketing? Click here to learn how I make a consistent income.
How Dropshipping Works
The dropship model is different from affiliate marketing in that you sell physical products in your own online store.
Similar to affiliate marketing though, you do not need to buy any products or store any products. You also do not need to ship anything.
Instead, you rely on dropshipping suppliers to ship items to your customers for you.
There are all types of products that you can dropship. It is a matter of locating dropshipping suppliers that carry the items that you want to sell.
Where to Find Dropshipping Suppliers
You can do a manual search for dropshipping suppliers. It is a bit time consuming to do it that way.
A faster option is to use wholesale supplier directories. They may charge a fee but all of the research has been done for you.
An even faster and hassle-free option is to source products from AliExpress.com. Many dropshipping store owners use AliExpress for sourcing products.
They carry millions of products and there are no requirements or monthly fees to begin selling anything on the website.
How to Open a Dropshipping Store
You will need an eCommerce platform to begin selling. A popular option is to use Shopify and the Oberlo app.
However, both have a monthly fee and those fees can be a large expense for new dropshippers.
I built my own dropshipping store using WordPress and a WordPress dropshipping plugin called AliDropship.
AliDropship saves me money as it is a one-time payment for the plugin. They also have a custom store service for those that do not want to build their own store.
The plugin works with AliExpress and enables you to import an unlimited number of products from the AliExpress website.
How Much Money Can You Make From Dropshipping?
It really depends on the niche that you choose as well as your promotional efforts.
Some dropshippers earn a few hundred per month while others are making full-time incomes.
You will need to promote your store and the products in your store on a regular basis. You can use free methods as well as paid advertising.
Many dropshippers have success using Facebook ads and Instagram ads. There will be a lot of trial and error when it comes to paid ads so you have to be prepared for that.
Be prepared to spend quite a bit of money on advertising before turning a profit. You may spend hundreds of dollars before you find a winning campaign.
The Pros and Cons of Dropshipping
Dropshipping has a lot of great benefits. The low start-up costs and low barrier to entry enable anyone to open their own eCommerce store.
However, there are some disadvantages as well. Below are some of the pros and cons of this online business model.
Pros
Low start-up costs
Low risk
No need to buy inventory up front
You can offer a wider variety of products in your store
Work from anywhere
You don't have to ship anything
No limits on your profit margins
Cons
You must handle customer service issues
You must rely on another company to ship your products
Some dropshipping suppliers aren't reliable
You may need to use paid advertising to keep sales consistent
Which Makes Money Faster? Affiliate Marketing or Dropshipping?
This is a common question. In most cases, you can make money faster by being a dropshipper.
That is because you'll likely use paid ads to promote your products. You can also use paid advertising for affiliate marketing as well.
For most people starting off, they don't have any extra budget for running paid ads.
That is what makes affiliate marketing a better option for some as you can build your business through content creation.
Honestly, if you are looking for quick money, neither of these options will work for you as both business models require your time and dedication.
If dropshipping makes money faster, it won't be by much in terms of speed.
I wouldn't necessarily base my decision on either business model in terms of making money fast.
| | | |
| --- | --- | --- |
| | Affiliate Marketing | Dropshipping |
| Low Start-up Costs | Yes | Yes |
| Need Your Own Products | No | No |
| Shipping & Handling | No | No |
| Customer Service | No | Yes |
| Location Freedom | Yes | Yes |
| Unlimited Earnings | Yes | Yes |
My Closing Thoughts On Affiliate Marketing or Dropshipping
Both of these online business models are great opportunities to earn an income online.
I started off in affiliate marketing and it is my favorite online business model thus far.
You can choose any niche that you want, you don't deal with customer service issues the way you do with dropshipping, and you don't have to rely on paid ads.
I also feel that affiliate marketing is easier to learn. When I started, I followed a step-by-step training course that I am still a part of today.
I use the training platform to offer one-on-one help to anyone that wants to start a niche affiliate website.
You can get the training, tools, and support that you need by clicking here. It is free to get started.