New affiliate marketers often seek out a way to get started in affiliate marketing in an easy way. In this 12 Minute Affiliate System affiliate review, I explain why this is an ideal product to recommend to new affiliate marketers and make commissions in the process.
The 12 Minute Affiliate System is a plug-and-play system for new and intermediate affiliate marketers. The system enables anyone to set up email marketing funnels in popular niches. All of the major tasks are done for you and it is a matter of following the steps and setting up your necessary accounts (affiliate products, autoresponder, etc.)
Done-for-you systems can convert really well in the make money online niche as new affiliate marketers are eager to get started and earn their first commission.
I'll dive a bit deeper into this product and also cover how the affiliate program works to help you decide if it is worth promoting yourself.
Product Details:
Product Creator: Devon Brown
Product Price: $9.95 + additional upsells
Commission: 50% initial, upsells, and recurring
Average Sale: $66.42
Sold By: Clickbank
Tired of online scams? Learn how I went from zero to making consistent affiliate commissions every month. Click here to learn how I did it.
What is the 12 Minute Affiliate System?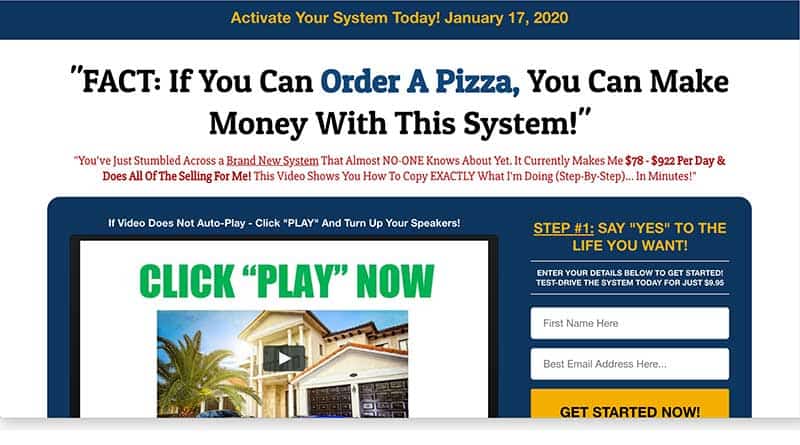 The 12 Minute Affiliate System was created by Devon Brown. Devon is a successful internet entrepreneur and live event emcee. He has been in the internet marketing space since 2007.
The system is actually a helpful product for those new to affiliate marketing. It focuses on email marketing through the use of landing pages and an autoresponder.
This is a marketing strategy that has been in use by successful affiliate marketers for years and it remains one of the top ways to market products to people.
What Devon has done is automate the entire process in a plug-and-play system to reduce the learning curve that most new affiliate marketers struggle with when starting out.
The system lets users select from three popular niches to include online business, health & fitness, and personal development.
Users can choose to upgrade and select all three niches. Otherwise, there is only one niche selection out of the three options.
There is a monthly recurring fee based on the niche plan that you choose. However, users can also buy lifetime access and avoid recurring fees.
Once a niche is selected, it is a matter of following the steps outlined in the system.
Users set up an affiliate account (for example, Clickbank), set up an autoresponder (AWeber), and set up a ready-made funnel page.
The "easy" part is having a majority of the work done for you. For example, the autoresponder email messages are already created.
Users add their own affiliate link and follow the steps to easily import them into the autoresponder.
The system even makes getting traffic to your funnel an easy process. It does require paid traffic but it is part of the done-for-you approach as well.
Potential buyers can access the system here by signing up and paying the initial fee of $9.95.
Note: If you are a more experienced affiliate marketer, check out the $1K A Day Fast Track affiliate program.
12 Minute Affiliate System Affiliate Program Review
The affiliate program is managed by Clickbank so if you do not have a Clickbank account already, you will need to create one.
You can find the product under the Clickbank Marketplace in the E-Business category and then under Affiliate Marketing.
You can also search for the product by typing in "12 Minute Affiliate." There is no whitelisting required and you can begin promoting the product immediately.
The commission rate is 50% on the front-end, upsells, and monthly recurring. The system's front-end price is $9.95. There are several upsells to include:
3X Your Results Blueprint – $39
Done For You Setup – $67
1-Niche Monthly – $47
3-Niches Monthly – $97
1-Niche Lifetime Access – $397
3-Niches Lifetime Access – $797
The average sale of the product is $66.42. However, there is plenty of potential to earn more with the amount of upsells available.
As a Clickbank member, your commissions are paid out by check or direct deposit. You can also choose for your payments to be weekly or bi-weekly.
Clickbank also offers a 60-day money-back guarantee on all products sold on the platform.
Is This an Evergreen Product?
There are a lot of products on the Clickbank platform that come and go. That can sometimes make it difficult to decide to promote a product for the long-term.
This product is in an evergreen niche and with the membership aspect, it may remain on the Clickbank platform for quite a while.
As of this writing, it is one of the top-selling products in the affiliate marketing category.
Is The 12 Minute Affiliate System Worth Promoting?
I feel that this product is worth promoting. It offers beginners an easy way into marketing affiliate products.
There will always be things to learn to improve one's internet marketing skills. Even though this is a plug-and-play system, users will still learn how email marketing works and hopefully move on to a better system such as $1K A Day Fast Track.
The ideal way to know for sure if this product is worth promoting is by investing in it yourself.
Overall, I think it is a solid product that offers great commissions.
My Closing Thoughts On Becoming a 12 Minute Affiliate System Affiliate
If you are in the make money online niche or want to be, this product is worth promoting. It is a beginner-friendly introduction into the world of affiliate marketing.
I recommend promoting this as well as other affiliate training courses using a niche website.
Niche websites are what I use to earn a consistent income online through affiliate marketing.
It is one of the best ways to earn affiliate commissions. I make commissions while I am sleeping, out grocery shopping, or relaxing with my loved ones.
Beginners may find it a bit challenging to get started. I did as well so I followed a step-by-step training program.
That training program made all of the difference for me and I use it today to help others one-on-one with creating and growing their own niche websites.